Local children celebrated by Gibtelecom in aid of Cancer Relief Gibraltar
March 31, 2022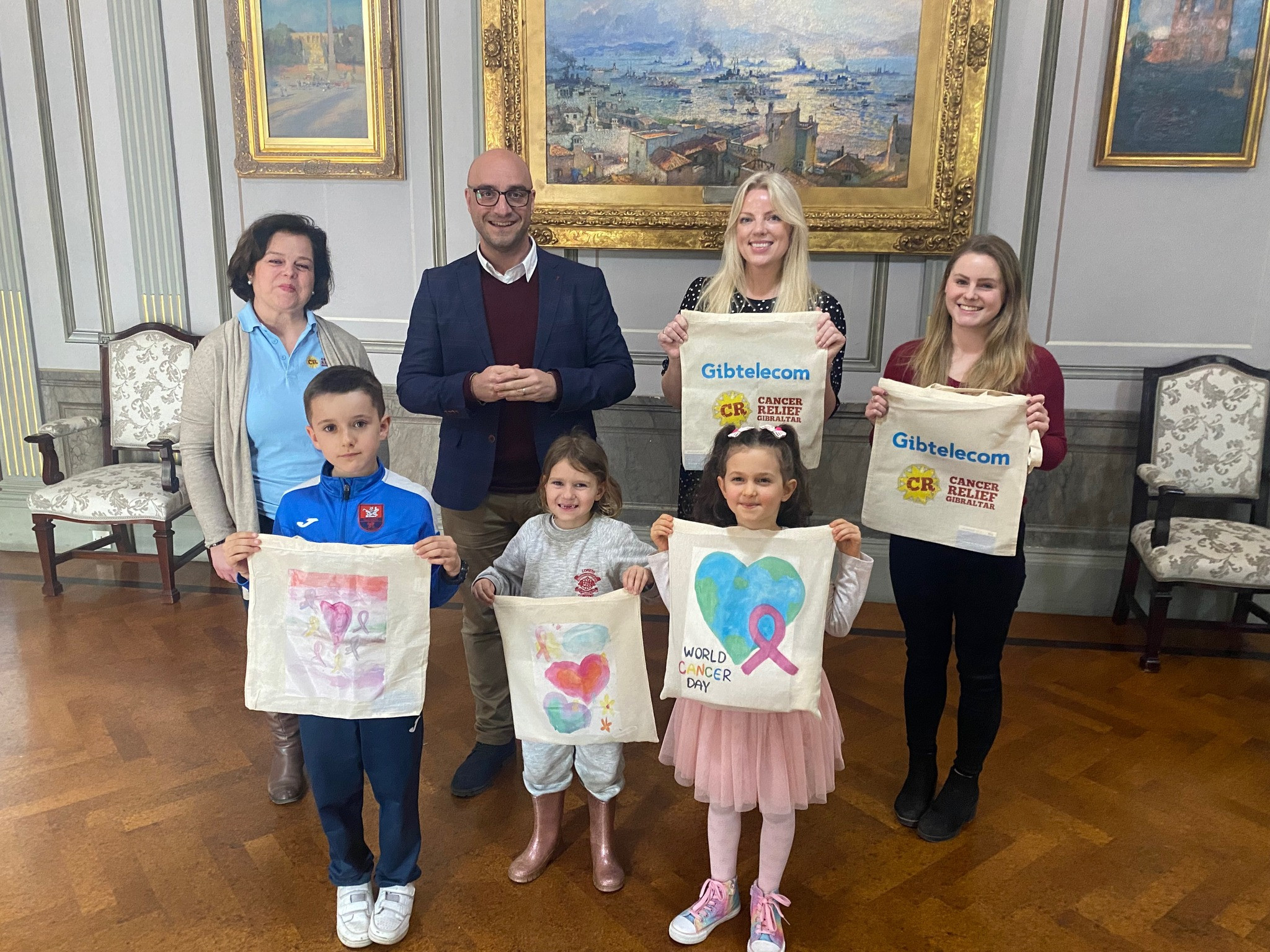 Pictured at back from left to right Yvette Gomez from Cancer Relief, His Worship The Mayor of Gibraltar, Deirdre Dunne and Ellie Foxwell from Gibtelecom. Pictured at front from left to right Finley Victor - Saalfeld, Anastasia Nemcev and Alma Belle Baharal
In aid of World Cancer Day, celebrated annually on 4th February, Gibtelecom launched a children's drawing competition through social media to mark the awareness day for Cancer Relief.
Local children were invited to get creative for the cause by designing their own version of the World Cancer Day logo and theme.
Five winning drawings were selected, digitalised, and printed on to reusable cotton tote bags which are currently being sold at Gibtelecom's shop in John Mackintosh Square.
Cancer Relief Gibraltar fundraising manager, Rowena Wallace, said: "We were delighted to be approached by Gibtelecom for this initiative. We loved the idea, and we are always grateful for any fundraising efforts.
"We'd love to say a big thank you to the Gibtelecom team and all the children who got involved!".
Priced at £3 per bag, all funds raised are donated directly to Cancer Relief Gibraltar.
The winning children attended Gibtelecom where they were presented with one of their bags, a certificate of appreciation and other goodies.
They were even invited to an audience with His Worship, The Mayor of Gibraltar, who thanked them for their fundraising events and congratulated their budding artistic skills. Representatives from Gibtelecom and Cancer Relief Gibraltar were also in attendance.
Maya Bezalel, mother of winner Alma Belle, said: "Thank you for letting the young generation take part, be creative and help support Cancer Relief with their amazing work"
Gibtelecom would like to say a special thank you to all participants and to winners: Alma Belle Baharal, Christina Kallikaki, Anastasia Nemcev, Arianna Power and Finley Victor-Saalfeld.
The local community are encouraged to pick up a bag, show their support for the cancer relief centre and share widely to help raise funds.