St John Ambulance receives "First Responder" motorbike from Gibtelecom
October 12, 2015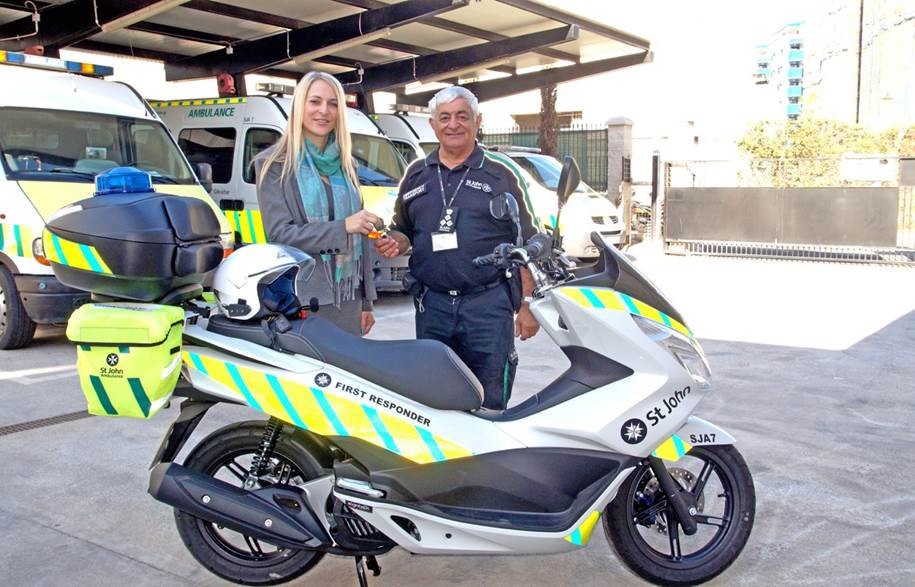 Gibtelecom presented St John Ambulance with Gibraltar's first ever "first responder" motorbike at a presentation ceremony held on Friday 9 October 2015, at the St John Ambulance headquarters at North Mole Road.
First responder motorbikes are typically used to provide fast and effective supportive medical assistance to patients in more difficult to reach areas or to provide additional medical cover for events such as charity walks and races, the likes of which are often seen taking place around Gibraltar. The motorbike is kitted out to include most of the equipment a normal ambulance would have, including an oxygen tank, defibrillator, blood pressure monitor and various other lifesaving tools.
Adrian Ochello, Gibtelecom's Head of Marketing and Business Development, said that "Gibtelecom is extremely proud to sponsor the St John Ambulance in this worthy cause, and contribute towards promoting a safer environment for Gibraltar's community. The introduction of this new service is crucial for a small place like Gibraltar, where various charity walks, races, and other public events take place, usually within or around confined areas." He added, "This donation complements Gibtelecom's ongoing support for the St John Ambulance and the Company's continual efforts to help the local community through numerous donations to various local charities, educational groups and sport and cultural organisations." The motorbike was presented by Lianne Azzopardi from Gibtelecom's Marketing and Business Development team.
The St John Ambulance expressed their sincere thanks to Gibtelecom and emphasised their appreciation for their generous donation.